Another Tragedy in Paris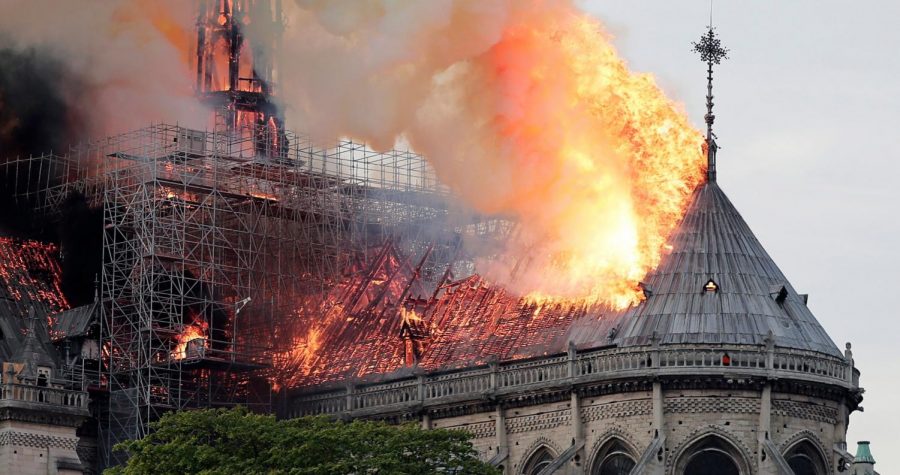 As of recent one of the most visited tourist destination in Paris caught on fire. The massive fire destroyed most of the roof due to the fire breaking out in the cathedral's attic. Although the cause of the burning of the 850-year-old Notre Dame cathedral is still under investigation many officials are saying it most likely started due to an accident during the process of restoring the cathedral. The cathedral was in process of a $6.8 million renovation project.
The fire started shortly after 6:45 p.m. which is when the cathedral closes. Due to the windy conditions the fire was able to grow quickly. Around 7:50 p.m. the spire fell and less than 15 minutes later part of the roof collapsed. Due to the extensive fire the island, Paris' Ile de la Cité, where the cathedral is located was evacuated by 8:30 p.m.
The history of this cathedral began when Pope Alexander III laid the foundation stone in 1163. The high altar was built in 1189. Many other parts of the church were later built within the next 100 years. Although the process of building this cathedral took nearly 200 years, once it was finished it experienced lots of damage. For example in the 1500's a group of reformists known as the Huguenots destroyed the windows of the cathedral and during the 1700's due to the French Revolution many treasures were destroyed. Before converting the cathedral into one building it was earlier known as two churches predated by a Gallo-Roman temple.
After the fire, French President Emmanuel Macron vowed to rebuild the landmark. The fire destroyed many parts of the cathedral, but they were able to preserve the main structures such as the outer walls and the two bell towers. Donations have started coming to fund the rebuilding costs. It took about nine hours and 400 firefighters to bring the fire under control. Although there were no deaths one firefighter was reportedly seriously injured.