Lady Bird Learns to Fly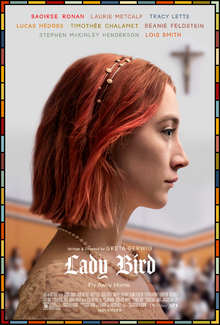 Hang on for a minute...we're trying to find some more stories you might like.
The movie, Lady Bird, came out November 3rd, 2017. The film won the Best Musical or Comedy, Best Performance by an Actress, and was nominated for Best Performance by a Supporting Actress, and Best Screenplay at the Golden Globes this year. In its limited opening weekend, the film grossed $364,437 from four theaters. It had the second best theater average of 2017 and the highest-ever for a film in limited release directed by a woman. When the film expanded to 37 theaters in its second weekend, and grossed a three-day total of $1.2 million, finishing 10th at the box office.
The movie is about a girl, Christine "Lady Bird" McPherson (Saoirse Ronan), who lives with her family in Sacramento, California in 2012. Lady Bird goes to a Catholic high school with her friend Julianne "Julie" Steffans (Beanie Feldstein). Lady Bird is an artistically inclined girl and is underwhelmed by the colleges she would be able to afford to go to. Her dream is to go to one of the east coast, particularly New York, schools. Lady Bird joins the school theater program, where she meets Danny O'Neill (Lucas Hedges) who she quickly becomes attracted to. Lady Bird and her relationships with boys are a major focus of the film. Lady Bird has a rocky relationship with her critical mother (Laurie Metcalf), which is another major focus of the film.
I had no idea what I was going to see when I agreed to see this movie with my sister, but I thoroughly enjoyed this movie. It was a coming of age story filled with laughs, tears, and shockingly real scenes. The movie won a 99% on Rotten Tomatoes, and while I am notoriously known for liking every movie, it is a review that I wholly agree with. This movie showed the hardships of life as a teenager, one faced with the challenge of picking a college, of the pressure of making those life-impacting decisions.
While it did have the one stereotypical 'popular' girl, which is featured in most teen movies, and the kinder than reality high school teachers, it was very true to life now. Filled with lines that sound like something me or my friends would say, and similar conversations with my parents. All in All, it was a lovely movie that was witty, fun, and real. An excellent coming of age story that deserves all the praise and awards.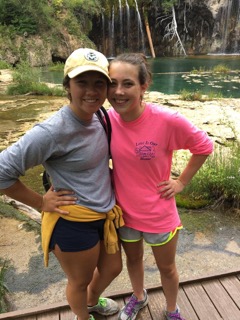 Peggy Fritz, Editor
Peggy is a senior at OLCHS, this is her second full year writing on the Spartanite. Along with being the editor of the Spartanite, Peggy is an active member...