Truly Fantastic Beasts and Where to Find Them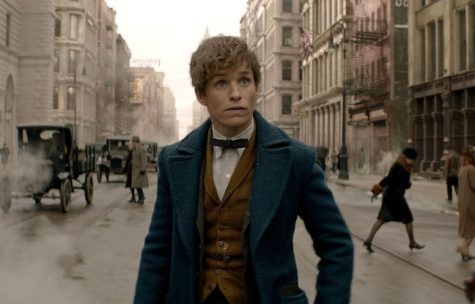 Fantastic Beasts and Where to Find Them
By Peggy Fritz
J.K. Rowling's, Fantastic Beasts and Where to Find Them, was another fantastic glimpse into the world of Harry Potter. Set in America's bustling city of New York during the 1920s. Soem characters consist of Newt Scamander, a wizard who cares for a case filled with magical creatures, Jacob Kowalski, a muggle who accidentally let the creatures loose, and the Sister witches, Porpentina and Queenie Goldstein, help Newt catch the loose creatures. They all race to catch Newt's escaped creatures and they battle the Magical Congress of the United States of America, the wizard government, and the Second Salemers, a groups of witch hunters, along the way.
This new installment is definitely aimed for a more mature audience than the original Harry Potter series, with mentions of abuse, the consumption of alcohol, and plenty of destruction. The film has both action packed scenes and slow paced moments. The action scenes are packed full of magic, and fun for many of the mythical fans, and the slow moments are filled with interesting discussions and character developments. In addition, it has plenty of peril, it has the making of a great film series.
With a well thought out plot and surprise twists, this is not a surprise from J.K. Rowling. The film received a 75% rating from Rotten Tomatoes and a 83% audience approval. It has also been revealed that there is a very strong possibility of a sequel to this movie.
J. K. Rowling, not only directed the film, but created the script of the film, Fantastic Beasts and Where to Find Them. The book itself was a textbook from within the Harry Potter universe that Harry uses during his time at Hogwarts. The film takes us away from the London world of Harry Potter and sets us down in America, even before Potter ever existed.
The book gives you a truly Fantastic new glimpse into the world of Harry Potter. It has wonderful tie in with the original series; surprise plot twists, and thoughtful characters. It is highly recommended for the older generation of Harry Potter and even Magical fans.