Breaking the Ice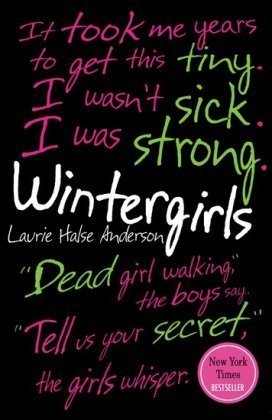 Wintergirls by Laurie Halse Anderson is a heavy novel revolving around important issues of our day. The story follows Lia Overbrook, a teenage girl who is just like everyone else. She has her ups and downs of high school, and she has her flaws. Unfortunately, her biggest flaw is her anorexia. Anorexia has taken control of Lia and the story follows her recovery from the deadly mental illness that had taken over her.
Lia's struggle started when she made a blood pact with her best friend to see who can become the skinniest. Her friend won, and her prize was death. Lia struggles with a bit of survivor's guilt as she balances recovering from anorexia. The novel takes a serious issue and tries to shed light on it without glorifying it. Mental illness, especially nowadays, is really being tackled in ways it wouldn't have been a century ago. It's being recognized by more and more people as a serious topic that needs to be acknowledged, and Wintergirls is a perfect example of what it would be like to be in the shoes of someone struggling with a mental illness. The novel is beautifully written and as you read the novel you can really relate to Lia's struggles. However, at the same time you really can't, unless you have gone through anorexia or any other type of mental illness.
Another major struggle of Lia's is dealing with self harm, which has resulted from her anorexia and the death of her friend. It's just one of the many layers to the flawed and sick protagonist. Anderson wrote a dark, disturbing novel that portrays not only how mental illness can impact an individual's life, but the lives of their loved ones as well. And while Wintergirls may be slow paced at times, it is definitely worth the read.