NHS Inducts New Members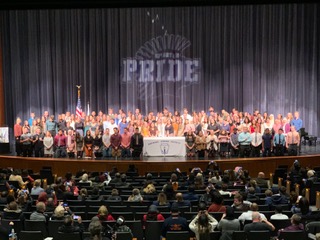 On November 4th, 2019, 90 students from the Class of 2021 were inducted as new members of the Spartan Chapter of the National Honor Society. These 90 members demonstrated academic integrity, intelligence, and dedication as they walked across the stage as National Honor Society inductees.
The ceremony to celebrate the new inductees was kicked off by an impressive introduction from Co-Presidents Sami Osmani and Kendallyn Julkowski, who then introduced guest speaker Mr. Michael Bielski. Vice President Amira Biba, Co-Treasurers Diego Perez and Isabelle Gonzalez and social media secretary Thomas Karountzos  all gave wonderful speeches that represented the core values of the National Honor Society.
During the entire ceremony, the inductees quietly sat and eagerly awaited to receive their candle and membership card. Osmani was particularly impressed and praised the new members for being respectful and bringing admirable traits to the table.
"My first thought on the inductees was that they were very respectful during the ceremony. I really appreciated that along their ability to listen and follow directions at our practices. I feel like we have a really great group. There's about 80 of them, and all of them bring something different, I believe, to the table. I see them in different clubs, whether that's theater or basketball, all different types of clubs."
The members of the National Honor Society take the values of the organization very seriously. When asked to go into depth, Osmani discussed the values and how they affect the members of the National Honor Society.
"Me, personally, scholarship and character really impact me, I always try to focus on getting the best grades I personally can, and I feel like NHS pushes that through our strict GPA rules, and also character; by being trustworthy and trying to make our community a better place. I can also go into service by this year;me and Kendallyn have both really tried to have a couple more service activities throughout the year that would help our community on a broader scale, whether that's Homes for Our Troops or creating a voter registration; and even on a broader scale, donating to the Bahamas and their hurricane relief programs."
When asked how his experience as an NHS Officer impacted his time at Oak Lawn, Sami happily gave a view into his experience and praised the other officers for their work.
"Well, like I said, Kendallyn and I, along with all the other officers, really tried to make it different this year in terms of trying to bring something new to the table, and we made the Homes for Our Troops a really big event; we wanted to push it out there for our disabled veterans that needed fixes in their home because of, you know, whether they needed wheelchairs or ramps for their houses, and we tried to really push that out during the football game and make it a really big thing and it was also our idea for voter registration, and that's going to be in early March, and we know this upcoming election is very important to our future. We want to make sure everyone has an opportunity to be registered before the voting starts so they could have their ideas and beliefs put out there and represented equally."
The new members certainly have big shoes to fill. With the Class of 2020 graduating in a few months, it is up to them to uphold the values and morals of the National Honor Society and represent Oak Lawn Community High School with integrity and intelligence.
Congratulations to the new inductees!