Massive Hurricane Destroys the Bahamas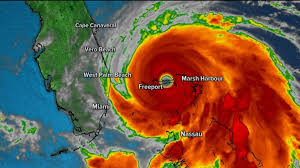 Hang on for a minute...we're trying to find some more stories you might like.
Homes turned into rubble. Families with no place to go for shelter. A once beautiful area is covered in debris. On September 1st a powerful hurricane known as Hurricane Dorian made landfall at the Bahamas with speeds up to 185 mph. Ocan is a student from Oak Lawn Community High School and he said, "Hurricane Dorian affected a lot of innocent people that really shouldn't have been affected at all, and now they are left with either little to nothing of any of their properties at all, and I think we should all come together and help these people out.".  At this time organizations like The Salvation Army, Mercy Corp, Americare, and many more are helping the citizens of the Bahamas by providing food, water, and shelter. Athletes are also donating money to organizations for the people that were affected by the hurricane. Michael Jordan pledged $1,000,000 for Hurricane Dorian relief. Morrison, another student from Oak Lawn Community High School said this, "Hurricane Dorian was a bad thing that happened it was a tragedy and I feel bad for those who were affected by it." Hurricane Dorian killed at least 50 people and 2,500 people are considered missing.