Reasons and Tips To Reduce Stress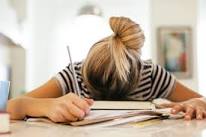 Hang on for a minute...we're trying to find some more stories you might like.
As teens, we experience new things and it can make us feel stressed. There could be different explanations why your always stressed out and panicking such as homework, parents, or any other reason. However, you don't have to worry anymore because the answers to your problem are right here! If you want to know how to get rid of stress, here are some suggestions for you to remember and try.
One of main reasons you might be stressed is lack of sleep. If your a type of person who is stays up until 12 a.m. or 2a.m., then you might have stress from a lack of sleep. Teens need at least 8 to 10 hours of sleep. Study shows that only 15% of teens get 8 ½ hours of sleep. This is because teens tend to have irregular sleeping schedules. In addition to, this also makes them sleep in late during the weekends which hurts that quality time of sleep. This can affect a teen's attitude. According to a sleep study, a lack of sleep could "lead to aggressive or inappropriate behavior such as yelling at your friends or being impatient with your teachers." Technically, it's the same way kids act when they don't get enough sleep. To avoid this problem, try to avoid T.V., computer, iPhones, or any electronic you might have, in the hour before you go to bed. Think of this advice the same way  as when your parents tell you not to stay up late but you do it anyway.
Do you turn in completed homework on time? Do you have late work? If you do have late work, then that might be a reason why your also stressed. Late  homework piles up and then you have even more homework and this causes stress. Not doing your work, could also cause your parents  to worry and keep a closer eye on their teen. To avoid this situation, create or get yourself a planner, or get yourself organized using a tech tool on your phone or iPad. Getting a planner can help you stay on task and it can  help you get everything done. Organization is also important to make sure you know where everything is.
If these these reasons aren't the solutions to the problem, then don't worry there are tips that can help you get rid of any stress in your system. Here are few ways you can get rid of stress:
Write it down- jot down in a journal what your grateful for. It could help you relieve stress and anxiety.
Chew gum- study shows that chewing gum helps people focus and quickly.
Exercise- resource states that when you exercise it can reduce stress, it can help you gain confidence, and improve your sleep quality.
Spend time with your pet ( if you have one)- keeping yourself company with a pet is a great, relaxing, and pleasant way to reduce stress.
Stay Organized- getting organized can help you stay in task,  and not worry and stress about forgetting work.
Read a good book- resource states that reading a book can quickly reduce stress than listening to music, going , for a walk, or enjoying a cup of tea.
If these tips help, then continue start using them. If  you want more information you can check these websites below. Remember that these tips and suggestions might help you avoid stress. It's better to be calm than to worry.
Resources:
https://www.healthline.com/nutrition/16-ways-relieve-stress-anxiety?scrlybrkr=2983f9be
https://www.sleepfoundation.org/sleep-topics/teens-and-sleep/page/0/2
https://www.telegraph.co.uk/news/health/news/5070874/Reading-can-help-reduce-stress.html

Denisa Budzak, Staff Writer
Denisa Budzak is a sophomore in Oak Lawn Community High School. She enjoys art, photography, and dancing. Her favorite subject is English. She also enjoys...