Class of 2016 Horoscopes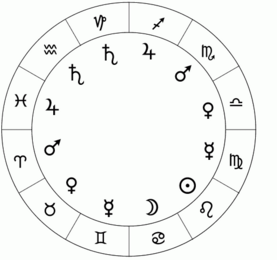 Hang on for a minute...we're trying to find some more stories you might like.
Aries
March 21 – April 20
Unlike your peers, you're ready to face the future head on. Maintain that mindset and you'll surely make it through future struggles scratch-free.
Taurus
April 21 – May 21
Chances are, you might be more worried about moving into your dorm than the pressure of college. You may have disagreements with your roommates, but it's better to compromise on equal solutions, rather than argue over petty matters for eons. Trust me, this will definitely make your future a little less stressful.
Gemini
May 22 – June 21
It's okay to graduate from high school not knowing what to do with your life yet! Millions, if not, thousands of people have gone through the same confusion as you are right now. The right choice will certainly come to you in time, so don't worry.
Cancer
June 22 – July 22
You're feeling extremely insecure at the moment because graduating basically means you're not a kid anymore. Soon you'll have to make a lot of changes in a short amount of time, and that's leaving you worrisome. You're afraid of failing, but in reality you'll be just fine and you're more than ready for the real world.
Leo
July 23 – August 21
It's totally acceptable to celebrate after graduation, but don't stay in party mode for the rest of your life! You're not used to doing the dirty work, so the real world will be an awakening for you. You've got to start becoming a bit more responsible, or else your future might be more stressful than it can be.
Virgo
August 22 – September 23
For the love of god, don't spend your whole summer worrying about college! Let loose and treat yourself for all of the hard work you've accomplished over the years.
Libra
September 24 – October 23
Now that you're fresh out of high school, there might be more pressure from others to conform to today's societal youth. Remember to stay true to yourself, and don't change for other people if you don't want to.
Scorpio
October 24 – November 22
In college, you'll find a lot of passive people, and that'll definitely irk you. Just let their passiveness go over your head and think about how someday, you'll be above them.
Sagittarius
November 23 – December 22
College is a time of taking on several tasks all at once. Plan carefully and don't take on more than you can handle. Pace yourself so you're not stressed out on the near future.
Capricorn
December 23 – January 20
You may have your future in the bag, but that's all you have in the bag. You're an efficient worker, so you're bound to have time for yourself. Use that time to experience new things and become a little more of a social butterfly.
Aquarius
January 21 – February 19
As of now, your future is looking great, but you have to remember that there are limitations in life. You can be whatever you want to be, but just remember that your decision comes with consequences. Whether you like them or not, you'll have to accept those consequences if you're that passionate about your dreams.
Pisces
February 20 – March 20
In the future, you may receive some criticism for what you've done or what you've worked on. Don't let others' suggestions get to your head and accept your flaws. After all, flaws make you human, and mistakes teach you how to improve.