Boogie On Down The History Books, Where Did School Dances Begin?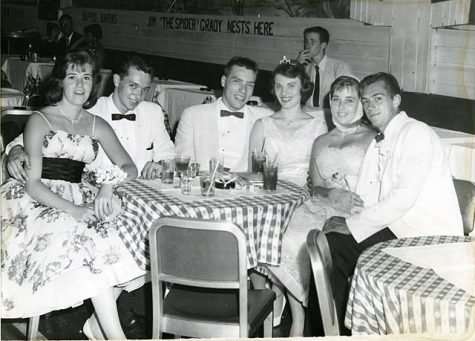 Highschool dances, gotta love 'em.  A staple of American YA media across the country.  Homecoming, Spring Flings, Winter Formals, Prom, there are many opportunities to live out your dreams of being the main character and sweeping someone off their feet. But since when was dancing an academic activity?
The 1940s, to be exact. At least for high schoolers.The word 'prom' is short for "promenade", an archaic word of the same meaning. Its predecessor was an event called a 'Senior Class Dance', originally a banquet for college students to celebrate their last year. The burgeoning culture of American teens brought this tradition to high school gyms in the 40s, before expanding even further to event halls and ballrooms. (In fact, in 1975 President Ford's daughter had her prom at the White House!)
With the presence of teenagers comes an extravagant social hierarchy, and the illustrious title of Prom Queen is no small splash in the pond. The thrill of competition with your peers is one of the most infamous parts of prom! This particular tradition has become the buzz of discussion over the years, questioning the validity of what is essentially a popularity contest. The ritual has a few suspected points of origin, but it's definitely been a staple for quite some time. 
But prom isn't the only dance there is, is it? And not the only Democratic one either. During Homecoming season, students vote for Homecoming Court or Homecoming Queen. Homecoming has its humble beginnings in alumni football games of the 1900s, once again originally a college tradition. The term Homecoming refers to the alumni returning back to the school for the event, as they were "coming home". These days homecoming games are home football games that occur in the days leading up to the dance. 
Voting isn't the only timeless custom of school dances either. We've all seen the "promposals", the Instagram DMs hastily tagged #HOCO. Asking someone to the dance has been a tradition as long as the dance itself. In truth, attending alone has only become a trend in recent years. Mrs. Newton recalls her Highschool experience in the same regard, "I will say that today more students go in groups to dances rather than with a date." Though going with friends truly is nothing to be ashamed of, the dance is meant to be fun!
So enjoy yourself, and maybe do a little reflection on the timeline behind these traditions. Decades ago you may have been wearing your Sunday clothes and dancing to a record player, yikes!