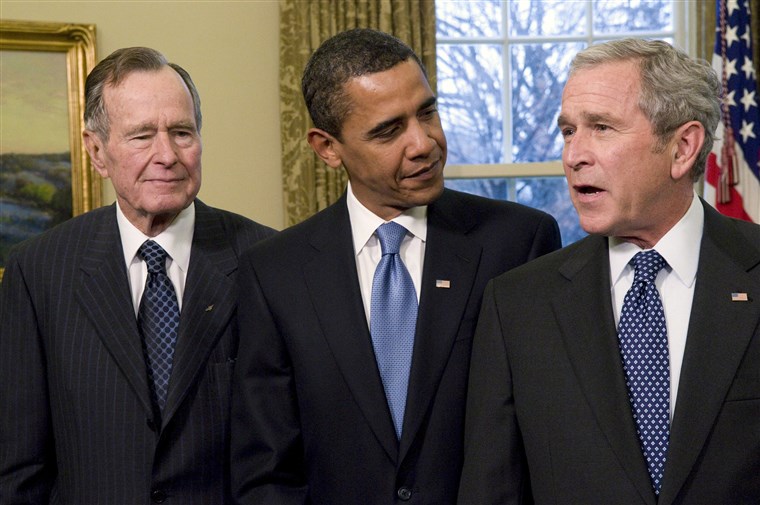 On the evening of November 30th, George H. W. Bush, the 41st president of the United States, and father of the 43rd president, George W. Bush, passed away. He was 94.
Born in 1924 in Massachusetts, Bush made his moral convictions to work tirelessly for what thought was right clear from a young age. In 1942, despite advice to finish his education completely before joining the war effort, after graduating from prep school, he enlisted in the U.S. Navy as a pilot, flying 58 missions over the Pacific before being shot down by Japanese forces. For this ceaseless service, Bush was awarded with the Distinguished flying cross. After the war, he married Barbara Pierce, to whom he was married to for 73 years until her passing this April.
Bush first became active in politics in 1959. He was elected to the U.S. House of Representatives, then was appointed as a U.S. ambassador to the U.N. In 1973, he became chairman of the RNC. He served as CIA director in 1976, but resigned when Carter took office. After a failed presidential bid in the republican primaries, he was taken on as the running mate for President Ronald Reagan, whom he end up serving under as Vice President for 8 years. It was at the end of this run that his Presidential career began. In 1988 he was elected as President of the United States.
His presidency was laden with much interest in foreign policy, and little in domestic policy. After less than a year in office, the U.S. Invaded Panama to topple their corrupt dictator. Though successful, the action resulted in hundreds of civilian deaths and was decried by the international community. His most significant involvement in foreign policy, however, and a by and large a much more positive one, was overseeing the spend of the Cold War, and the collapse of the Soviet Union, in cooperation with his Russian counterpart Mikhail Gorbachev. In 1990, he led an embargo against Iraq to push them out of Kuwait. When that failed to succeed, he aided the restoration of Kuwaiti independence in the Persian Gulf War. However, despite his successes in the Middle East, his blunders in the care of a recession in the last half of his presidency ensured his defeat in the '92 election to Bill Clinton. Also criticized was his lack of response in the early years of his presidency at the height of the AIDS crisis, though he did end up signing two significant pieces of legislation the Americans With Disabilities Act, protecting those with HIV and AIDS from discrimination, and the Ryan White bill, providing funding for AIDS treatment.
In his retirement, during his son's presidency, he worked with his successor, President Clinton, to fund relief for the Indian Ocean Tsunami and Hurricane Katrina. He was later awarded the Presidential Medal of Freedom in 2011 for his decades of public service.
In his later years, he was confined to a wheelchair due to vascular parkinsonism, and his last few years were marred with health issues. After the death of his wife, his health continued to decrease until his own death, which was met with expressions of condolences and grief by former presidents Jimmy Carter, Bill Clinton, his son George W. Bush, Barack Obama, and current president Donald Trump.
In remembering him, we should acknowledge who he was, a good man, who worked tirelessly for what he held to be just, and just as even the best of men do, fell short of perfection. His life was not without error, and many may disagree with his views, but this does not change the good nature of his character, the integrity he had, and the example he set which we should hope to follow. With his death, America faces the end of an era, and for him we mourn.