The Spartans are off to a Hot Start!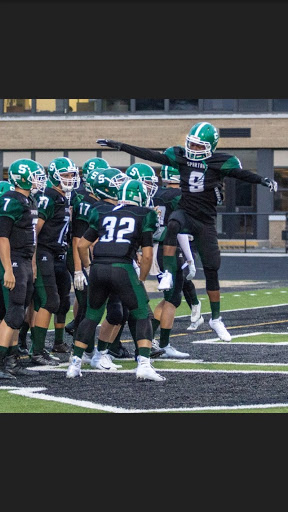 Hang on for a minute...we're trying to find some more stories you might like.
The Oak Lawn football team started their season off with a bang! From the opening kickoff in the green and white game, Spartan Fans knew they were expecting an action-packed season.  The Spartans began their quest for the playoffs in a non conference victory (28-22) over a scrappy Marian Catholic team. Junior Quarterback Chris Gallagher and Junior Wide Receiver Kevin Swatek connected on multiple touchdowns while Captain Nico Uriarte had an outstanding defensive showing. In the second game of the season the Spartans had to wait a little longer than anticipated. Due to lightning, the Spartans had to postpone their match with non conference opponent, Thornwood. Despite the tough loss of 52-12, Junior Jordan Sprycha believed,"Although we had a tough loss, our team learned so much through the defeat. The only thing we can do is keep our heads up and be prepared for Argo." The Spartans looked ready to battle the Argonauts in their first conference game of the season. Man of the match went to RB Nick Puente who ran for 277 yards and added 6 TDs. Contributions from Sophomore Kicker Mike Conroy only added to the 26 point victory where the Spartans won 56-30. Make sure to come out and support your Spartans as they continue their season!