Letters For Love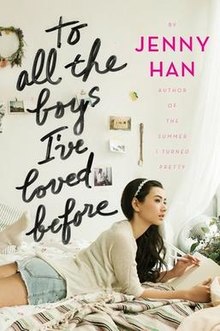 Claire Esquerra, Staff Writer
September 25, 2018
Lara Jean's love life goes from imaginary to uncontrollable in this romance novel from the New York Times bestselling author, Jenny Han. In To All the Boys I've Loved Before, Lara Jean has loved five boys in her life. She has poured out her heart into love letters and never looked back, until the day she discovered her secret letter were sent out.
There are five letters in total, one for each boy she has loved, but the plot mainly centers around Peter and Josh. Josh, Lara Jean's next door neighbor, and Peter, popular, handsome, and may sometimes behave cocky, cause much drama to take place in the novel. As a reader, you can fall for characters in the novel. The characters in this novel live up to their descriptions. They can make you laugh and giggle or get on your nerves.
I recommend reading the novel rather than watching the movie and experience the feelings that Lara Jean had throughout the story. You get a perspective on what she feels rather than it being small details. I felt like the movie was at a faster pace comparing to the the novel. Producers and filmmakers depicted moments and characters in the movie very well. The movie cast was well chosen and their personalities fit in with the plot.
If you like romance and humor, then this novel is for you! Various characters add the right amount of humor into story to make it very interesting.