Fry the Coop Review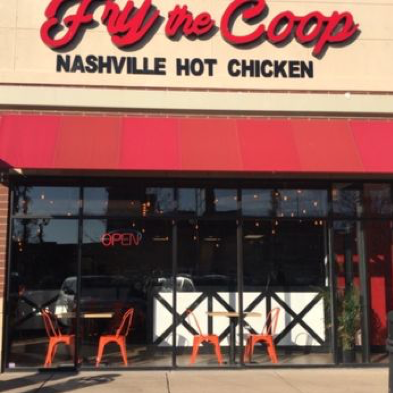 Fry the Coop Nashville Hot Chicken in Oak Lawn is a perfect place for families and friends to eat. As soon as you enter you feel a warm welcome with beautiful decorations, friendly atmosphere, and the workers greet and help you right away. There was not a single time the cashier gave attitude towards anyone and was patient with everyone as they decided what to eat.
The wait for the food did not take long, it was approximately a 3-5 minute wait for the food. There was always someone making sure everything is clean and that chairs, tables, and trays were organized properly. I ordered the tender plate, which includes 3 chicken tenders and a side of coleslaw (I didn't include coleslaw in my meal) and house fries.
The chicken was sort of dry but it was juicy, tender, and it was a bit spicy. You can actually choose how spicy you want your chicken, from country (no heat) to crazy hot! The fries were really good and they were a bit crispy.
Overall I had a good experience at Fry the Coop. The service was good, and the restaurant was clean, and it had very nice decor. The food was good but I wish they had more options on the menu. I would give Fry the Coop an 8 out of 10 rating.
If you would like to visit Fry the Coop or learn more about it, look down below for more information.
PHONE
(708) 576-8645
LOCATION
5128 W 95th St
Oak Lawn, IL 60453
Website:
https://www.frythecoop.com
HOURS
Mon – Thurs
11:30AM–8PM
Fri – Sat
11:30AM – 9PM
Sunday
12PM-8PM